Bingo Blitz often introduces new events to make the game more exciting. Ingredients cooking are widely accepted event in this gambling game. All the tricks to collect Bingo Blitz free ingredients will be shared right here. 
You will also know the trading process between friends. All the ingredients list and the process to collect them will also have a dedicated section. So what are you waiting for? Let's hover down to the main section of the article.  
What are Bingo Blitz free ingredients and how to exchange them? 
There are different types of Bingo Blitz Ingredients in the game based on their rarity margin. The 'Most Common' ingredient is the easiest to get, and the 'Most Rear' ingredient is the hardest one. The pantry section is upgraded regularly with new stocks.
The color and flavor of the ingredients will determine their ability. Bingo Blitz ingredients can cook one or more dishes in a single go based on their level. Bingo Blitz free Ingredients often share with you the most common ingredients and you can cook one dish with them at max. 
Chef Blitzy is joined by Moxie to cook the dishes. But you might not have the right ingredients and need to exchange them. Well, the Ingredients shuffle feature will be the right call for you. The right process to exchange free ingredients on Bingo Blitz is shared below. 
Click on the Ingredient Shuffle feature.

5 shuffle or exchange facilities will be available in the initial stage. 

You can use them and shuffle ingredients from other pantry packers. 

The exchange needs to be performed between the same flavor points.

Collect the right ingredients in this fashion and cook your dish.    
How to trade ingredients in Bingo Blitz?
You can trade ingredients in Bingo Blitz from the Friend Center. You need to have friends who are willing to trade ingredients with you. Once you have a deal with your Bingo Blitz friends for ingredients trade, you can follow the process down below and complete the trade in no time. 
Enter into the Friend Center. 

Tap on the Gift Request option. 

Choose the trade that you want to go with. 

Request for your desired Bingo Blitz ingredient.

Your friend now needs to accept the request. 

Once accepted, the item will be in your My Gift section and later in the pantry. 

You should now use the same strategy to send an ingredient to your friend in exchange for the gift. 

In this fashion, you can trade ingredients in Bingo Blitz.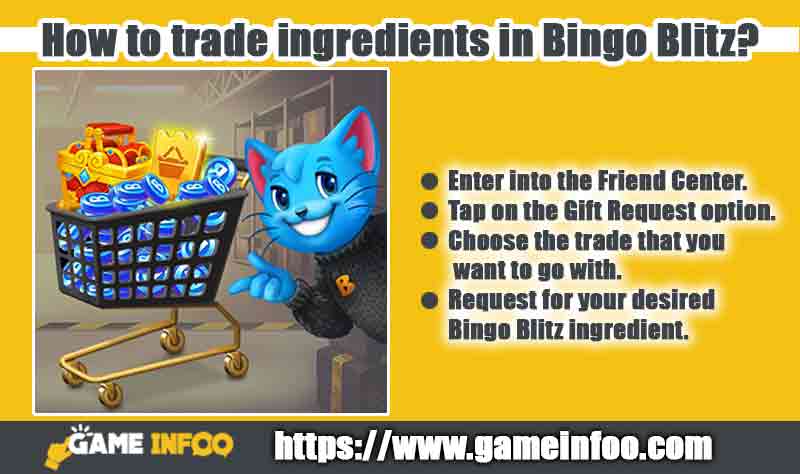 How to cook with Bingo Blitz Ingredients?
Cooking with Blitzy is a popular feature of the Bingo Blitz game. It is a contest where you will receive Bingo Blitz bakery ingredients and others. You need to use them to cook the dishes. The list of all the Bingo Blitz free ingredients is shared below. 
Rosemary 

Sour Cream

Chicken 

Tomato

Broth 

Cheese

White Beans

Zucchini

Apple 

Radishes 

Eggs 

Olives 

Onion 

Orange 

Juice 

Butter 

Mushrooms 

Cinnamon 

Garlic 

Artichoke 

Arugula 

Basil 

Fish 

Pepper 

Pizza Dough 

Rice    
Among all of the Bingo Blitz free ingredients, you are going to receive 5 of them. You need to cook a dish out of your own Bingo Blitz ingredients. The whole process is shared underneath with full details. 
Collect your ingredients from Gamesproreview

Check your email and find the list of ingredients that you have received

Copy the link from the email through which you will submit the dish 

Exchange your ingredients with friends if needed 

Create a new recipe from your ingredients 

Submit the new dish on the link that you have previously copied. 
How to get Bingo Blitz free ingredients?
There are many ways to acquire your Bingo Blitz needed ingredients. All the processes shared here will be free but you need to complete certain tasks. Follow them and collect more Bingo Blitz ingredients. 
Daubing chests:

You would need a treasure chest and alongside that daub a square. In this way, you can acquire more ingredients for you. 

Leveling up:

Play the game and unlock new rooms. Leveling up on the game will unlock new features for you.

Trade with Friends:

Exchange your unwanted ingredients with your friends and get your needed Bingo Blitz ingredients in return.  

Special Quests:

New Season comes with new quests and rewards. You need to take this opportunity.  

Meta Events:

Bingo Blitz events always offer more ingredients in exchange for completing specific tasks.   
Some Common Bingo Blitz ingredients hacks
Bingo Blitz does not allow foul play in the game. You can't always trust online tricks to get Bingo Blitz free items. But bugs and glitches often encourage new hacks. Unfortunately, there is no active how to Bingo Blitz ingredients hack right now. As soon as I get some new hacks, I will share them with you right here. 
Utilizing Bingo Blitz Free Ingredients
Bingo Blitz offers players the opportunity to collect and use a variety of free ingredients to enhance their gameplay experience. One way to make the most of these free ingredients is by crafting and upgrading power-ups. Crafting power-ups allows players to create unique and powerful tools that can help them get ahead in the game. Upgrading power-ups further increases their effectiveness, giving players an even greater advantage. By utilizing these free ingredients and focusing on crafting and upgrading power-ups, players can enhance their gameplay and increase their chances of winning.
In addition to crafting and upgrading power-ups, players can also trade ingredients with their friends. This creates a sense of community within the game and allows players to help each other out. By trading ingredients, players can obtain the specific items they need to complete recipes or unlock new features. This not only enhances the player experience but also increases their chances of success in the game.
TIPS AND STRATEGIES FOR MAXIMIZING BINGO BLITZ FREE INGREDIENTS
Bingo Blitz offers a variety of free ingredients that players can collect to enhance their gameplay experience. To maximize the benefits of these ingredients, it's essential to employ effective tips and strategies.
First and foremost, players should prioritize their ingredient collection based on their specific game objectives. Whether it's completing a specific recipe or earning extra rewards, focusing on the ingredients that align with the desired goals can greatly enhance gameplay.
Efficient usage of power-ups and collectibles is another crucial aspect. Make sure to utilize them strategically to optimize their impact and increase the chances of winning big in Bingo Blitz.
Moreover, the game's social features can be leveraged for ingredient exchange. Networking with other players and participating in community activities such as gifting and trading can help to acquire missing ingredients and complete recipes faster.
By following these tips and strategies, players can make the most of Bingo Blitz free ingredients and enhance their overall experience in the game.
Conclusion
Bingo Blitz free ingredients cook you some delicious dishes and give you an advantage over your opponents. You already know the process through which you can collect free ingredients in the game. Always try to follow the game rules to collect ingredients.
Online hacks often don't work and are just a hoax. Trade with your friends and collect your desired in-game ingredients. If you have your own way to collect free ingredients, then don't forget to share them here. Keep coming back shortly to know more about the Bingo Blitz gameplay.   
Frequently Asked Questions (FAQs)
Are there any Bingo Blitz cheats for free ingredients? 
It is essential for you to avoid cheats to collect free ingredients. Bingo Blitz does not allow this sort of action. You can get banned from the platform for a lifetime. Try to play by the rules. 
How to collect new ingredients on Bingo Blitz?
You can exchange your ingredients with your friends. You can request ingredients and in return, you can send them one from you. Besides, you can also level up and participate in events for more free ingredients. 
How many ingredients can you use for your Bingo Blitz dish?
There are lots of different ingredients in Bingo Blitz play. All of them are distributed in a random number. You need to use five ingredients to make a dish. Bingo Blitz Ingredients vary from dish to dish.